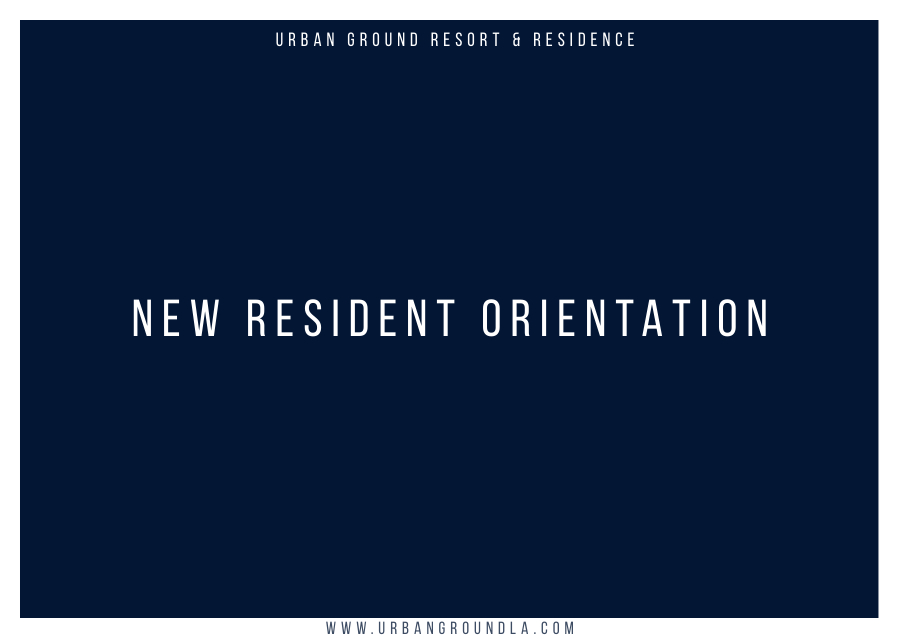 Urban Ground Resort & Residence is a dual purpose, commercial resort and private residence "privately owned" by Urban Ground Resort, LLC, that operates as a commercial gay resort and private gay residence offering their Guests access to Urban Ground Resort's amenities, activities, products, goods, and services many of which are completely situated on Urban Ground Resort property and are deemed "privately owned public spaces" for the purpose of defining these spaces.
As we welcome potential and future new residents to Urban Ground Resort & Residence, Urban Ground Residence has implemented a New Resident Orientation as an informational session providing you with an opportunity to learn everything you need to know about Urban Ground Residence from resident services, guest passes, community events and more.
Urban Ground Residence is a master planned development modeled after any city, town, or municipal for up to 36 thousand residents where access to Urban Ground Residence is limited to residents, their guests, and employees working on the grounds on Urban Ground Residence only. Urban Ground Residence is pedestrian friendly with vehicular traffic limited to residents of Urban Ground Residence and the operations of Urban Ground Residence thereby reducing traffic noise increasing a sense of calm and serenity for the residents of Urban Ground Residence. At our sole discretion, from time to time, Urban Ground Resort, LLC, may permit nonresidents, guests, and employees via a guests pass an opportunity to visit Urban Ground Residence, however, Urban Ground Resort, LLC, is under no legal obligation to provide any Guests pass and any such pass may be issued in a limited amount, per capacity per day.
Distinct living for a distinct lifestyle, Urban Ground Resort, LLC, offers a mixed-income, city scale development, known as Urban Ground Residence where life is a life, style, and destination that awaits you with curated communities consisting of luxury apartment homes, townhomes, and modern home communities with all of life's everyday amenities.
New and future residents of Urban Ground Residence are required to attend a new resident orientation prior to move in and lease signing and the purpose of the new resident orientation is to introduce all future residents to the life and style of both Urban Ground Residence and Urban Ground Resort as we welcome you to your new home and your new community.
Should you have any comments, questions or concerns please contact Urban Ground Resort, LLC, at resident@urbangroundla.com.